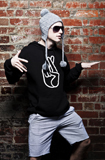 Silversix (Ben Smith) is a young producer and DJ, based in Melbourne, Australia.
Ben is a Director / Label Manager of Melbourne record label & website Suckmusic.
As a resident at some of Melbourne's most popular night clubs including the world renowned Revolver Upstairs, Silversix finds himself playing alongside and collaborating with a growing number of international heavyweights.
His latest & upcoming production work can be found on labels such us Cr2 Records, Ministry Of Sound, Sony One Love, Hotfingers, Sweat It Out!, Suckmusic and more…
Download the Silversix APP for iPhone/iPad or Android.